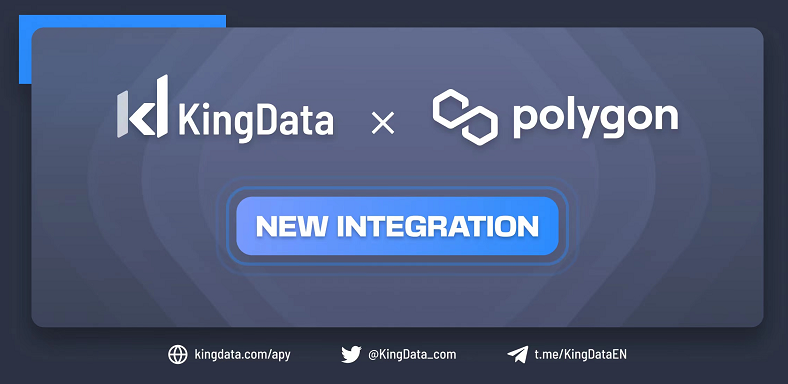 We are thrilled to announce KingDatas' integration with Polygon to provide blockchain data solutions and public chains analysis. 
KingData, as a leading blockchain data analysis platform, will work with Polygon Ecology to provide contract resolution services for its 200+ applications within the ecosystem, and leverage its advantages to present Polygon ecological data to KingData users in a more clear and intuitive form. Help users to monitor, track and analyze project data, provide more powerful connection for high-quality projects and users, and achieve mutual benefit and win-win.
About Polygon
Polygon is the leading platform for Ethereum scaling and infrastructure development. Its growing suite of products offers developers easy access to all major scaling and infrastructure solutions: L2 solutions (ZK Rollups and Optimistic Rollups), sidechains, hybrid solutions, stand-alone and enterprise chains, data availability solutions, and more. Polygon's scaling solutions have seen widespread adoption with 7000+ applications hosted, 1B+ total transactions processed, ~100M+ unique user addresses, and $5B+ in assets secured.
If you're an Ethereum Developer, you're already a Polygon developer! Leverage Polygon's fast and secure txns for your dApp, get started here.
Website|Twitter|Ecosystem Twitter |Developer Twitter|Enterprise Twitter|Studios Twitter|Telegram | Reddit|Discord |Instagram|Facebook|LinkedIn
About KingData
KingData is a data aggregation and tracking platform on multi-dimensional data to enable trading. Users can discover high-quality new projects in one-stop, monitor the data dynamics on the chain in real-time to find the best investment opportunities
Telegram: https://t.me/KingDataEN
Twitter: https://twitter.com/KingData_com
Website: https://kingdata.com/
Check out more about the Whale information:https://kingdata.com/whaleaddress?lang=en&utm_source=blog