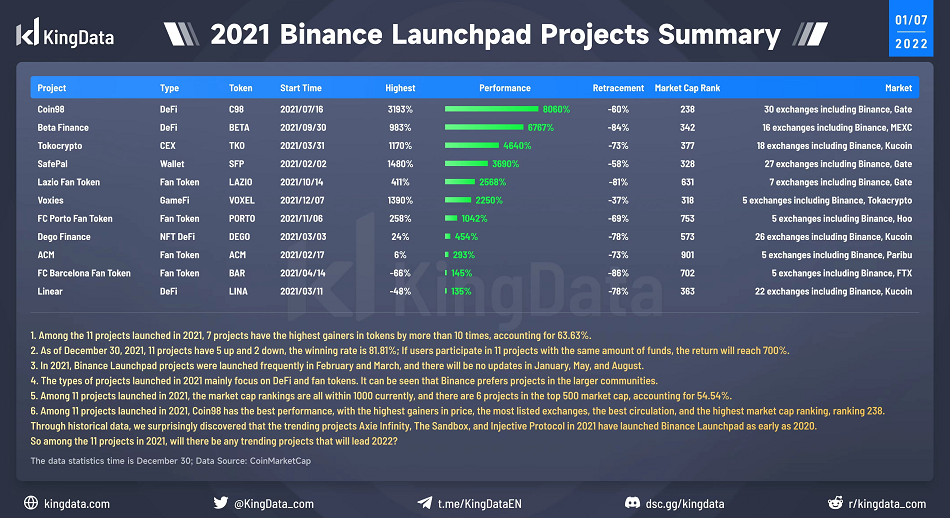 1. Among the 11 projects launched in 2021, 7 projects have the highest gainers in tokens by more than 10 times, accounting for 63.63%.
2. As of December 30, 2021, 11 projects have 5 up and 2 down, the winning rate is 81.81%; If users participate in 11 projects with the same amount of funds, the return will reach 700%.
3. In 2021, Binance Launchpad projects were launched frequently in February and March, and there will be no updates in January, May, and August.
4. The types of projects launched in 2021 mainly focus on DeFi and fan tokens. It can be seen that Binance prefers projects in the larger communities.
5. Among 11 projects launched in 2021, the market cap rankings are all within 1000 currently, and there are 6 projects in the top 500 market cap, accounting for 54.54%.
6. Among 11 projects launched in 2021, Coin98 has the best performance, with the highest gainers in price, the most listed exchanges, the best circulation, and the highest market cap ranking, ranking 238.    
Through historical data, we surprisingly discovered that the trending projects Axie Infinity, The Sandbox, and Injective Protocol in 2021 have launched Binance Launchpad as early as 2020. So among the 11 projects in 2021, will there be any trending projects that will lead 2022?